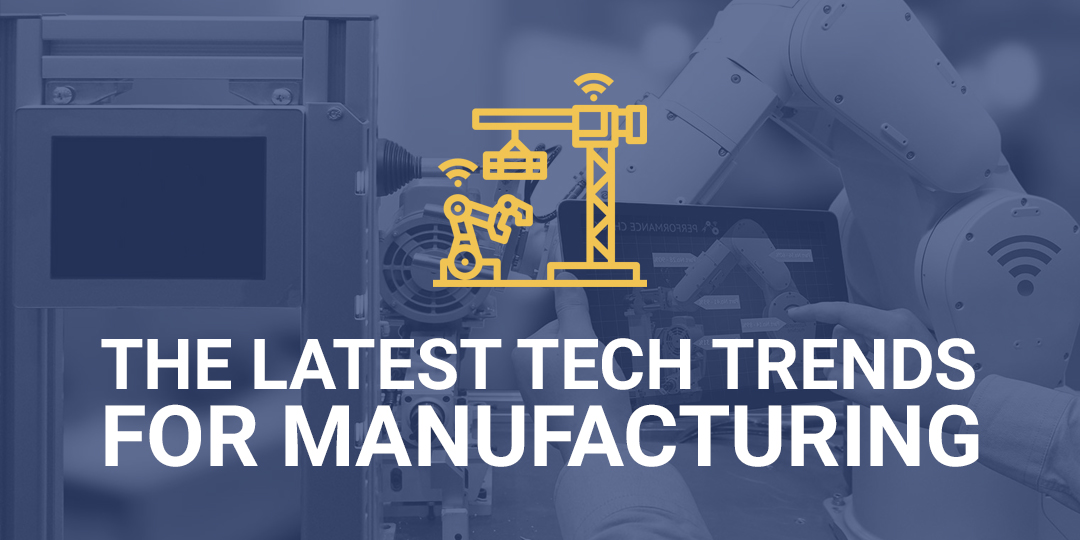 Many manufacturers have been forced to change the way they use technology. Some of these changes were made rapidly due to the abrupt shift in how we work and do business, but the outcome appears to be unprecedented advancement.
The technology trends for manufacturing in 2024 are all part of the movement known as 'smart manufacturing.' Each one looks set to revolutionize production across a wide range of industries, introducing new levels in connectivity and productivity. 
The Internet of Things (IoT) Makes Further Inroads
The Internet of Things (IoT) helps manufacturers gain deeper insight into their business operations by connecting and monitoring the various components. This level of connectedness, powered by sensors and cloud connectivity, provides valuable data that leads to informed changes and improvements to all facets of their manufacturing enterprise. 
Automation is a Core Focus
Automation will be a key technology trend in 2024 for several reasons that include:
Higher production rates

Increased worker productivity

Workers are freed up to focus on higher-value tasks

Improved safety

More efficient use of materials

Reduced factory lead times
With so many advantages available at both the process and production levels, automation is fast becoming a manufacturing mainstay in 2024.
Cloud Adoption: No Longer Optional
According to  Forbes, manufacturers are expected to dedicate as much as one-third of their IT budget to cloud-based applications and infrastructure. The reason is clear- the pandemic has shown that under some conditions, on-site systems can be a hindrance. As a result, more manufacturers are transitioning to a cloud-based infrastructure and its attendant technologies, including telecommuting, IoT, and automation. Once these systems are complete, collaboration and innovation will be more convenient as well as cost-effective.
Enterprise Resource Planning Goes Mainstream
Enterprise resource planning (ERP) has been part of the manufacturing industry for years but now, thanks to the availability of cloud-based SaaS services, which are much easier to deploy than their predecessors. 
ERP systems help manufacturers by:
Automating different operational areas and uniting them under one cohesive system.

Delivering the insights needed to oversee the entire operation and make adjustments and improvements where needed.
3D Provides New Dimensions
Once a novelty pursuit, 3D printing is another niche technology making its way onto shop floors everywhere. At the moment, manufacturers are using it to prototype products more quickly and efficiently, but it won't be long before 3D printing makes it possible to produce custom and stock products at scale.
There appears to be no end to the innovative uses for 3D printing in manufacturing. According to  Manufacturing Global, HP and its global network of partners and customers are printing COVID-related safety parts such as face mask adjusters, and hands-free door handles for healthcare providers around the world. 
5G Will No Longer Be a Luxury
5G was introduced in 2019, and 2024 is expected to be the year that it becomes a manufacturing fixture. Not only is it up to 100 times faster than 4G, but it processes data faster and shares data more rapidly thanks to its significantly reduced latency. 5G can also introduce advanced capabilities into more remote facilities, making all locations in the organization faster and more productive.
Risk Mitigation Through Blockchain
Blockchain, which powers cryptocurrencies like Bitcoin, may be a way for manufacturers to increase trust and transparency in 2024. It records digital assets in a decentralized ledger and, in a manufacturing setting, could be used to track assets, maintain regulatory compliance and quality assurance, and even detect counterfeit items. No data is stored in a single location, so your business can be better protected from the disasters of data loss.
Meet the Cobots
As businesses continue to deal with social distancing challenges on production, more cobots may be seen on shop floors in 2024. Automotive companies like BMW and Ford have been using them for years to boost production rates, and they may be the answer to COVID-related restrictions in other manufacturing fields.
Unlike industrial robots, cobots don't need to work in isolated or barricaded areas for safety purposes. They work alongside humans to maintain required output levels AND safety practices.
VR and AR Remote Assistance
The pandemic has made it difficult for manufacturing companies to send field technicians to job sites to install equipment or conduct necessary repairs. Fortunately, support technologies like augmented reality (AR) and virtual reality (VR) have made it possible for these techs to provide remote assistance through manufacturer-supplied AR- and VR-enabled devices.
In the past, customers invariably bypassed touchless support options in favor of having a technician do work on site. Due to COVID, more of them are open to the idea of remote support, and it could be a lower-cost way to assist customers even after the crisis passes.
Glocalization
A combination of the words 'globalization' and 'localization,' glocalization is a term used to describe a type of business that has a global presence but adjusted its model to meet local needs as well. 
The pandemic's negative impact on business travel and international borders has motivated many manufacturers to stay competitive by balancing their local and global business options, keeping themselves more agile and open to opportunities.
What Are Your Technology Trends for Manufacturing in 2024?
Rising inflation and a shrinking labor force has compelled manufacturers to adopt newer technologies as well as change the way they use existing ones. The trends summarized in this blog can enable forward-thinking businesses to capture even more market share and usher in a new age of productivity, connectivity, profitability, and security for essential data.
Contact an Industrial Abrasive Specialist
Does your manufacturing business use industrial abrasives like sanding belts, discs, and rolls? At Fintech Abrasives, we produce premium-quality abrasive products built for industrial applications. We also have the ability to custom-manufacture abrasives if you can't find what you're looking for on our online shop. For more information about your options, speak to an abrasive technician today by filling out our contact form or calling (888) 223-8768.