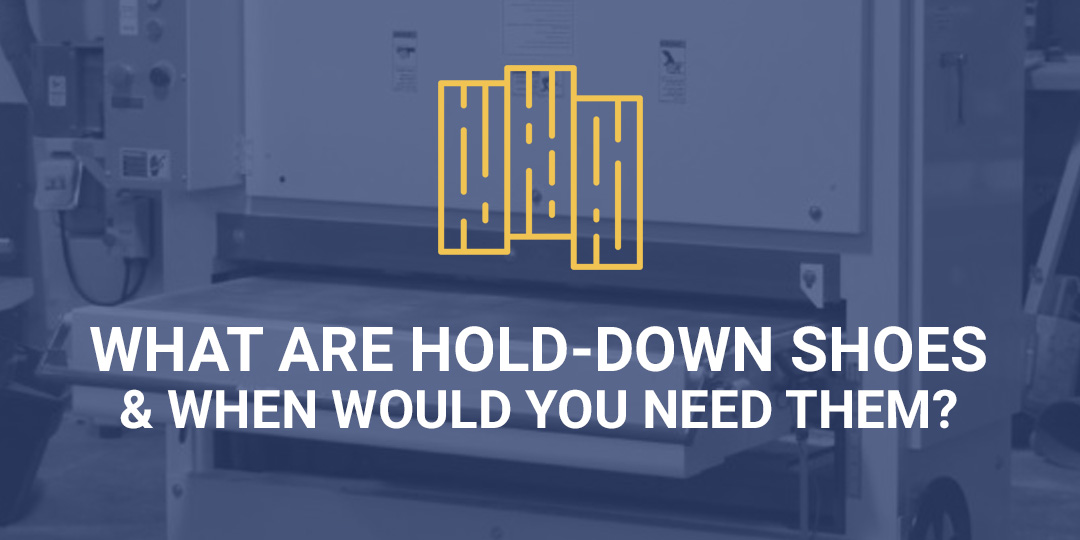 With wide belt sanders, hold-down shoes play a similar role as chip-breaker shoes in planers. They are small components used to control a workpiece as it passes through the sander, making it easier to run shorter parts through as well as prevent trailing edges and sniped or dubbed lead. 
When set correctly, hold-down shoes support a more effective sanding or finishing job, so we've created this blog outlining their specific uses, how to set them up, and how to check them for wear.
Specific Uses of Hold-Down Shoes
As we stated at the beginning, hold-down shoes enable the large wide belt sanders to process smaller pieces or hold close tolerances when necessary. This means that you'll want to ensure that they are properly set when working with the following pieces:
Narrow parts

Short parts

Parts less than ¼" thick
Setting Relative Height and Sidelong Position for Hold-Down Shoes
Hold-down shoes and pinch rolls on wide belt sanders older than six months tend to be considerably out of adjustment relative to each other and the sanding heads as well as side to side. These problems usually result in sniping or dubbing and should be checked periodically.
To set the relative height and sidelong settings of pinch rolls and hold-down shoes relative to sanding heads, follow these steps:
Lower the feed bed on the wide belt sander and open its thickness setting to around 5".

Position the setup device on the conveyor belt on one side of the sander, beneath the first sanding head with a sanding belt on it.

Close the aperture until the indicator on the dial begins to register. You may close it to a specific reading, but this step is usually not necessary.

Move the device under each pinch roll and hold-down shoe. Keep adjusting until the proper side-to-side and differential settings are achieved.
To keep your wide belt sander running at peak performance, adjust both the hold-down shoes and pinch rolls as necessary. During times of heavy use, you may want to make these adjustments more often.
Checking Sanding Shoes for Wear Across the Face
When sanding shoes become too worn across the face, it impacts machine performance. To check for wear, carry out the following steps:
Lower the feed bed on the wide belt sander and open its thickness setting to around 5".

Position the setup device on the conveyor belt on one slide of the sander beneath the sanding shoe until it registers on the dial indicator.

Move the device laterally across the width of the sander, paying close attention to any needle movements of the dial indicator. Hold-down shoes should be flat with .002".
Repeat the second step for each additional shoe that you want to check.
Premium Abrasives Are Also Key to Wide Belt Sander Performance
While keeping the hold-down shoes properly set and in good condition are important for wide belt sander performance, using the right sanding belt for your application is also critical. At Fintech Abrasives, we manufacture wide sanding belts for a full range of wide belt sanders. We can also custom manufacture belts to meet your unique needs. To learn more about our products or place an order, you can contact us any time by filling out a contact form or calling (888) 223-8768.