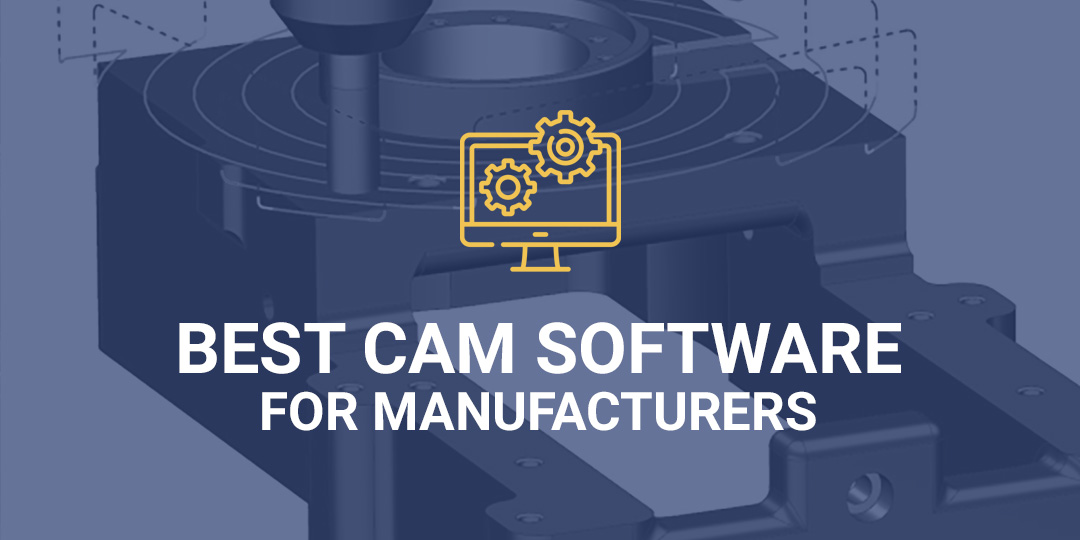 The term Computer Aided Manufacturing (CAM) refers to the use of software and computer-controlled machines‌ ‌to‌ ‌automate‌ ‌a‌ ‌manufacturing‌ ‌process. It consists of three principal components:
Specialty software that generates toolpaths to show a machine how to manufacture a product and converts those toolpaths into a language the machines can understand.

Machinery that can shape, grind, and complete all other steps needed to turn raw material into a finished product.
Manufacturing companies use such software to optimize the conversion of ‌raw materials‌ ‌and‌ ‌components‌ ‌into‌ ‌finished‌ ‌products. ‌In this article, the team at Fintech Abrasives outlines the best CAM software for manufacturers, along with tips for determining which one is right for you.
Manufacturing Machines That Use CAM Software
CAM software directs various Computer Numerical Control (CNC) machines to produce engineered parts. Prior to the advent of CNC machines, manufacturing centers were operated manually by skilled machinists. ‌‌Nowadays, the only human intervention needed to run a CNC machine is to load a program, insert raw material, and unload the‌ ‌finished‌ ‌product.
Examples of CNC machines directed by CAM software include:
CNC Routers: Using high-speed spinning components, these machines cut and carve parts. ‌CNC‌ ‌routers‌ ‌have a three-axis capability, which enables‌ ‌them‌ ‌to‌ ‌move‌ ‌along‌ ‌the‌ ‌X,‌ ‌Y,‌ ‌and‌ ‌Z‌ ‌axes.

Electrical Discharge Machines (EDM): Using an electrical discharge, these machines cut out desired shapes from raw materials. ‌An electrical‌ ‌spark‌ ‌is‌ ‌created‌ ‌between‌ ‌an‌ ‌electrode‌ ‌and‌ ‌raw‌ ‌material,‌ ‌reaching temperatures of ‌8,000‌ ‌to‌ ‌12,000‌ ‌degrees‌ ‌Celsius. ‌EDMs are able to melt through nearly anything in a controlled and precise manner.

Laser, Plasma, and Water Cutters: Lasers, a plasma torch, or high-pressure water are used to control the cutting or engraving process. ‌Plasma‌ ‌cutters‌ are often used for ‌cutting‌ ‌metal and other electrically conductive materials.

Lathes: These machines spin the raw material and cut into it with a stationary tool.

Milling Machines: Machines like this chip away at all types of materials, such as‌ ‌metal,‌ ‌wood,‌ ‌composites,‌ ‌etc. They are designed to remove mass from raw ‌material‌ ‌as‌ ‌efficiently‌ ‌as possible.
CAM Software for Your Manufacturing Shop
While machine quality is important, the right CAM software can result in more efficient operations and a superior product. Let's take a closer look at some of the best CAM software for manufacturers.
Fusion 360
Fusion‌ ‌360‌ ‌is‌ ‌a‌ ‌cloud-based‌ ‌3D‌ ‌CAM‌ ‌software‌ ‌that‌ ‌integrates engineering, design and manufacturing into a single‌ ‌platform. ‌Fusion 360 provides modules including data management, simulation, documentation, and documentation for midsize and large shops and manufacturing facilities.
With the design tool, you can create top-notch products using different modeling methods. ‌The sketch tools provide a robust set of constraints and dimensions that can be used to develop and revise sketches while the 3D modeling capability makes it easier to analyze a product more closely and ensure high quality.
The software helps you create sheet metal component parts, record flat patterns with 2D drawings, and export them to the drawing exchange format‌ ‌(DXF). ‌The sheet metal component can also be used to create designs for water jet, laser, and plasma machines. Finally, the team participant element allows you to add users to your project atmosphere only ‌for data‌ ‌management‌ ‌and‌ ‌collaboration‌ ‌purposes.
Some users have said that Fusion 360 has weak support for organic sculpting, but otherwise the reviews are positive. It's also one of the most affordable CAM softwares out there, costing only $60 per month on a subscription basis.
GibbsCAM
GibbsCAM‌ ‌by‌ ‌3D‌ ‌Systems‌ ‌is designed to support the needs of ‌facilities with high production levels. Its capabilities include five-axis machining, tombstone management,‌ ‌‌and‌ ‌solids‌‌ ‌‌import.
With the production milling tool, there is support for two-axis to three-axis wireframe machines with features such as contouring, pocketing, threading‌ ‌and‌ ‌face‌ ‌milling,‌ ‌2D/3D‌ ‌spiral‌ ‌creation, ‌and‌ ‌more. ‌Fourth-axis positioning is also supported. The‌ ‌production‌ ‌turning‌ ‌accessory‌ ‌offers‌ ‌various‌ ‌functionalities‌ ‌for‌ ‌two-axis‌ ‌wireframe machining, including but not limited to contouring, threading, and boring.
The GibbsCAM solids import solution extends support for manufacturing models at the entry-level. ‌These solids can be viewed, read, and edited. ‌Next,‌ ‌the‌ ‌2.5D‌ ‌Solids‌ ‌tool‌ ‌imports, creates and edits solid models so they can be machined. ‌Various tools are available for repairing, importing, and solidifying‌ ‌surface‌ ‌data.
GibbsCAM has been praised for its powerful features and ease of use. A couple of reviews have noted that the program is very specific with regards to making boundaries but this does not appear to detract from its overall value.
NX CAM
Siemens' NX CAM integrates 3D models, data, and processes to improve the link between planning and shop floor operations. ‌There are various tools available for machining complex parts, such as mold and die machining, machining‌ ‌simulations, and post-processing.
With the five-axis machining component, you can create intricate parts with fewer operations‌ ‌and‌ ‌installations. ‌By using this feature, you can‌ ‌develop‌ ‌controlled‌ ‌toolpaths‌ ‌for‌ ‌unique‌ ‌machine parts‌ ‌from‌ ‌impellers‌ ‌to‌ ‌engine‌ ‌ports‌ ‌and‌ ‌blisks. Other features include:
A post-processing and simulation tool that enables you to develop NC programs to improve‌ ‌machine tool‌ ‌utilization‌ ‌and‌ ‌production‌ ‌efficiency.

Mold, die, and electrode machining tools that produce faster and higher-quality‌ ‌tooling.

The prismatic parts machining module uses volume-based milling and feature-based machining to‌ ‌deplete‌ ‌programming‌ ‌time.
According to user reviews, the learning curve can be steeper for inexperienced users, but its simplified interface and easy access to common commands make it easy to get the knowledge you need to unlock the full power of the software.
SolidCAM
SolidCAM‌ ‌is a CAM system that manages manufacturing methods and CNC milling practices. It has a robust automatic feature recognition mobile that identifies and recognizes holes, pockets, and chamfers for easier machining capabilities. Other features include:
A high-speed surface machining module that effortlessly selects surfaces in need of machining, eliminating the need to define boundaries.

A mold machining tool that tackles common issues like surface finish and accuracy. This‌ ‌accessory‌ ‌has‌ ‌superb tool path characteristics that work quickly‌ ‌on‌ ‌CAD‌ ‌models. 

The turning component has a complete set of toolpaths and approaches to quickly and efficiently turn parts.

With the machine simulation element, you can visualize all probe movements using a solid probe.
Although the machining functionalities are at a higher level, anyone can learn quickly how to use the software because of the easiness of the controls. On the down side, the software can crash if you don't have a high enough system configuration.
SOLIDWORKS CAM
The SOLIDWORKS CAM add-on for SOLIDWORKS CAD presents a seamless integration into a CAD environment. ‌Manufacturing‌ ‌tasks‌ ‌that‌ ‌previously had to wait until a design was complete can now be conducted‌ ‌concurrently‌ ‌with‌ ‌the‌ ‌design‌ ‌process. 
Features include:
Instantaneous feature recognition that quickly pinpoints different component geometries, including bosses, holes, and pockets.

Calculate automatic machine time and compare it with traditional machining methods to ensure all aspects of a part are taken into account before it is manufactured.

Implement‌ ‌a‌ ‌machining‌ ‌technique‌ ‌for‌ ‌a‌ ‌three-axis‌ ‌milling‌ ‌program. ‌By locking the cutting tool in a tilted position, this three-axis milling module lets you use the two rotational axes of a five-axis machine.

Create‌ ‌and‌ ‌import‌ ‌parts‌ ‌so‌ ‌you‌ ‌can‌ ‌communicate‌ ‌with‌ ‌designers,‌ ‌read‌ ‌model-based‌ ‌definition data, and make necessary‌ ‌manufacturing‌ ‌revisions.

Make sure your parts are made correctly on the first try by importing clamps and vises.
Despite its advanced features, SOLIDWORKS CAM has a very short learning curve due to its intuitive interface. You get a clear visualization of complete tools and fixtures and simulation of toolpaths, and it's easy to scale as customer needs grow. The price is higher than a lot of other CAM software on the marker, but the sheer volume of features and capabilities are worth it if you run a higher-volume operation.
Which CAM Software is Right for You?
Choosing your ideal CAM Software begins with defining the‌ ‌features‌ ‌you‌ ‌need. ‌Here are some features and guidelines that can help you make the right decision.
Machining: ‌Removing unwanted materials to shape various parts or workpieces into an ideal form.

Solids: Creating digital models of 3D objects and parts. ‌You can create and import models for manufacturing.

Turning: Utilizing a turning or cutting machine to remove unnecessary materials from workpieces. ‌This accessory ‌boosts productivity for turning machines.
Sanding CNC Pieces
While good CAM software can improve productivity, a premium quality abrasive is essential to producing a market-ready part or component. CNC workpieces can often have lines or rough edges that need to be sanded out. At Fintech Industrial Abrasives, we sell wide sanding belts, sanding discs, sanding rolls, and other abrasive products that add efficiency and value to your manufacturing operation. To speak to a technician or place an order, please fill out our contact form or call (888) 223-8768.