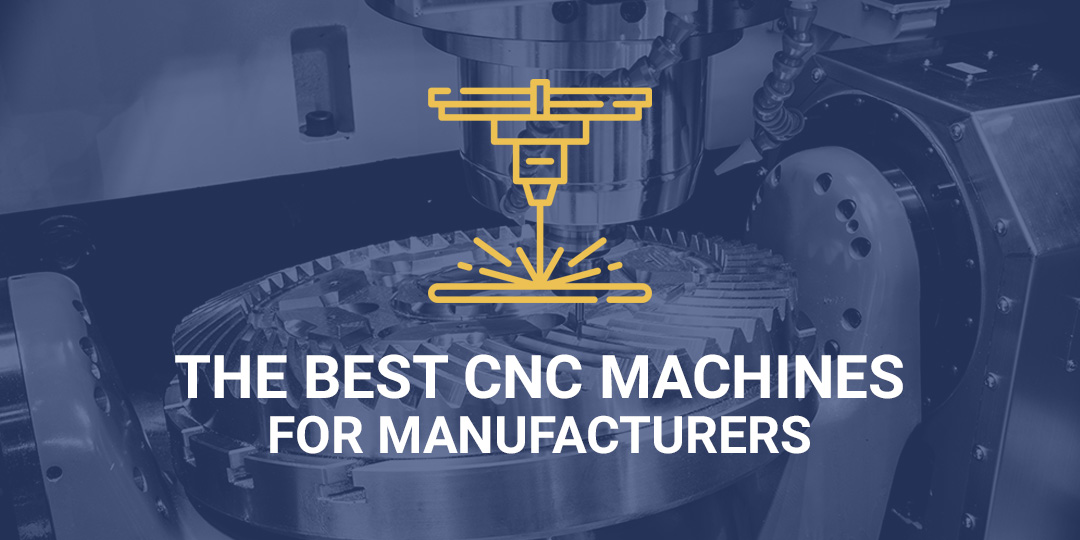 Computer Numerical Control (CNC) machines use pre-programmed software and code to control the operation of production equipment such as grinders, turning mills, and lathes. For manufacturers across most industries, these machines can make daily operations faster, more accurate, and less expensive. 
Since CNC machines are comparatively new inventions, choosing the right model can be a challenge. In this blog, the team at Fintech Abrasives will go over the benefits of CNC machining for manufacturers, factors to consider when shopping for a unit, and seven of the most popular machines on the market today.
Benefits of CNC Machining for Manufacturers
CNC machines present a wide range of advantages for manufacturers. Below is an overview of the top benefits.
Save Money
CNC machines allow you to make the most of all the raw materials involved in the manufacturing process. With their high level of precision, CNC machines reduce waste significantly. As a result, you can reduce losses and increase both productivity and profitability over time.
Increase Productivity
CNC machining is an efficient process, reducing the number of steps normally required to produce a particular part. As a result, you can produce several items or parts in a shorter period of time than using other manufacturing techniques.
Higher Safety Levels
CNC machining is an entirely automated process. It creates a safer working environment since the machine does all the work without humans being present. CNC machining reduces potential safety risks associated with the use of potentially dangerous materials such as steel or metal.
Improve Production Output
Most CNC machines are equipped with measures to protect quality assurance. Therefore, when the machine detects a problem during manufacturing, it shuts down automatically to prevent the problem from worsening.
Design Retention
When a design has been registered in the program and a perfect prototype has been created, the program can effortlessly recover the design and run it again. This master file ensures that the machining process creates an accurate match every time. 
Lower Production Costs
Once it's set up, a properly-functioning CNC machine should run efficiently for a long time without needing repairs or component replacement. Because there is a lower risk of maintenance-related shutdown, production is less likely to be interrupted.
Low Maintenance
CNC machines require little maintenance. The software updates itself when necessary and the components rarely need more than the occasional cleaning and cutting tool replacement. Professional help is rarely needed during routine maintenance which also saves money.
Factors To Consider When Shopping For A CNC Machine
CNC machines are a big advantage, but they're also a big investment. Here are some factors you should consider before making a purchase.
Power
A CNC machine's motor power is important since different machine types require varying levels of power. A good way to choose the right motor power is to determine what purpose the devices will serve. Are you processing wood or shaping metal components? The answer will dictate your power needs.
Programming
One of the most common mistakes made by those who switch to CNC for the first time is buying a machine that's too hard to operate. Those new to CNC machines should probably look for a model that uses conversational programming. If you've worked with CNC machines before, but this is your first time owning one, figure out what kind of programming you're already familiar with and find a machine that suits your style.
Coolant
Generally, most CNC machines use one of the following types of coolant:
Gasses

Solids like soap, wax, or paste

Emulsions

Chemical coolants

Semi-chemical coolants

Straight cutting oils
You'll want to ensure you have access to the right product for your machine.
Space
Making a machine space plan before introducing new machines to production lines is always a good idea. This way, you purchase a CNC machine that will fit in its designated area and not have to worry about taking time-consuming adjustments.
Water & Air Hookups
The metalworking industry in particular relies heavily on compressed air to power a range of CNC machining operations so you'll need access to an air hookup. On a similar note, if you're going to be using water jets to shape materials, make sure a water hookup is available.
7 Of The Most Popular CNC Machines
There is a wide variety of CNC machines to choose from. In this section, we highlight the features and benefits of seven of the most popular models.
Haas VF-1
The VF-1 is the foundation of the hugely popular Haas VF Series machines. This CNC vertical mill has 20" x 16" x 20" travels, is equipped with a high-power, direct-drive spindle, and is easy to customize to meet your facility's needs. 
The VF-1 comes standard with one gigabyte of storage, which can be upgraded to 64 GBs. The control comes preloaded with service videos, troubleshooting documentation, and access to real online help. There is also a powerful suite of conversational probing templates known as VPS, or the visual programming system. It can program and control robots, auto part loaders, and pallet pools. You can even get fully integrated work and tool probing to accelerate your process.
Hurco VMX42Di
The Hurco VMX42Di is equipped with a WinMax-powered control and the UltiMotion motion system. UltiMotion is a motion control system that reduces cycle time and improves surface finish quality by determining the optimal trajectory to run the tool and providing consistent feed rates.
The VMX42Di control supports a variety of programming methods, which maximizes efficiency. Additionally, the control's technical specifications include 4GB RAM, 128GB drive, and 10,000 block look ahead.
Lincoln Electric Torchmate 4800
The Torchmate 4800 is a CNC plasma cutting table that comes fully assembled. You will be able to avoid extra shearing fees from your steel vendor because of the larger cutting area. By ordering genuine Lincoln Electric® plasma cutting consumables, you can also save more money and increase productivity. According to the manufacturer's website, the FlexCut® consumable design lasts up to 3 times longer than a lot of other models.
MYSWEETY CNC 3018-PRO
While the MYSWEETY CNC 3018-PRO cannot cut metals, its performance is generally high. If you're looking for something you can use to engrave wood, it is one of the best wood CNC machines out there. It also does an excellent job of cutting plastic. The machine is also easy to assemble thanks to the comprehensive instructions included in the package and the fact that it is partially assembled.
Zen Toolworks CNC Carving Machine
Zen Toolworks CNC Carving Machine might be your best option if you are looking for a compact CNC machine that fits into smaller shops. With a DC spindle powered by a brushless 400-Watt motor, this machine can cut a wide variety of materials. 
Built with high-density PVC boards, the machine can withstand high levels of rough use. With linear bearings, stainless steel lead screws, and a steel guide rod, the machine has a lot of strength. Furthermore, it has a brass nut design that virtually eliminates backlashes.
Feiuruhf CNC Router Engraver
The Feiuruhf CNC Router Engraver is another budget-friendly option with high performance. In addition to being compatible with a wide range of programs, this machine is also ideal for a variety of materials, including plastic, wood, MDF board, PVC, and composite plywood. The only shortcoming we found is that the software it comes with is only the demo version, so you will have to pay extra for the full version.
Tormach PCNC 440
A small, compact CNC mill, the PCNC 440 offers an alternative to the larger machines on the market. With the powerful Poly-V Belt transmission system, this model can engrave and shape even the toughest metals.
One of the biggest benefits of the Tormach PCNC 440 is that it comes with the company's PathPilot CNC controller. The platform is very intuitive and has powerful conversational programming that allows you to modify programs, making it a good choice for hobbyists and professionals alike.
The Next Step? Sanding Your CNC Carved Workpieces! 
Once you've used your new CNC machine to carve workpieces, all they typically need is sanding and smoothing. This is where sourcing a quality abrasives manufacturer can add value to your business. 
At Fintech Abrasives, we manufacture and sell abrasive products in a wide range of grits and materials, including those you need to sand your machined metal or wood workpieces. Our product line includes:
If you have any questions about which product is best for your application, we'd be happy to provide tips and recommendations. To place an order or speak to one of our abrasive technicians, please fill out our contact form or call (888) 223-8768.