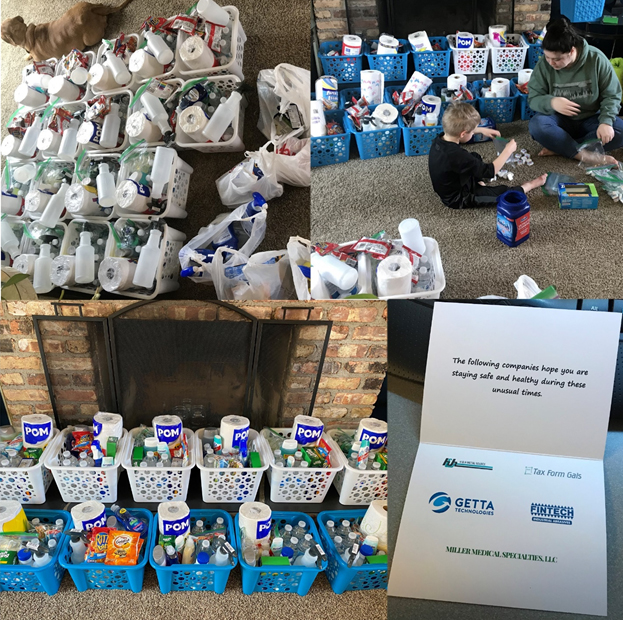 In a matter of weeks, the coronavirus (COVID-19) pandemic swept across the US like wildfire. Many business and industries were completely shut down. Our own factory ceased production of products for 'non-essential' customers. No single event has shattered the American economy to this degree since the terrorist attacks of September 11, 2001. Layoffs have risen across the country as unemployment has spiked. This pandemic has been tough for many of us. 

As members of the greater Grand Rapids community, Fintech Industrial Abrasives wanted to take action to help struggling families during this difficult time. We partnered with Getta Technologies, H&H Metal Source, Tax Form Gals, and Miller Medical Specialties to supply 55 COVID-19 care packages to families in need. 
About The Care Packages
The care package baskets were designed to contain essential items families would need during the shelter-in-place order. Baskets included: 


Baskets were delivered on a first-come, first-serve basis to families across the greater Grand Rapids area in need. The hope is that these care package items will help families get through the next 17 days that the shelter-in-place order remains in effect. 
Why We Did It
Fintech Industrial Abrasives is always looking for ways to give back to the community we owe everything to. It's the reason we founded our Annual Passion For Making Scholarship and the reason we sponsor various local events and organizations throughout the year. 

When coronavirus hit Michigan, we watched friends, family, and acquaintances struggle with the pandemic and the orders that have arisen as a result of the pandemic. We wanted to be able to do our part to help in any way that we could. Care packages seemed like the best solution to be able to provide those in need with practical and essential items they would require to get by. 

The state of the economy is unfortunate, but we know that we can all get through this together. We're glad we've been provided with the opportunity to pitch in and we'd like to thank all of the other local businesses that have also contributed support for the care packages. 
About Fintech Industrial Abrasives
Fintech Industrial Abrasives is an abrasive manufacturer based out of Belding, Michigan. We've supplied sanding belts, sanding discs, sandpaper rolls, and sanding sheets and pads to some of the largest manufacturers in the US for over 35 years. We're incredibly proud to be members of the greater Grand Rapids area and will continue to do what we can to support the community.